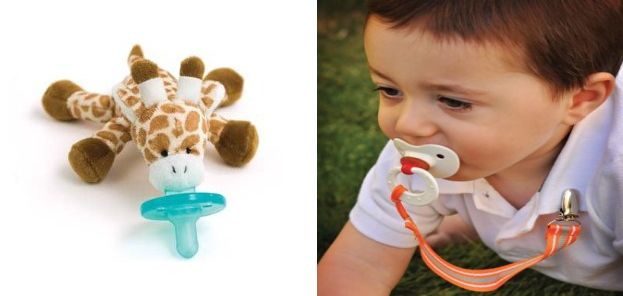 New parents often can get conflicting and confusing advice when they have new baby. Often there are different opinions among parents and family member about baby care, not to exclude different parenting style. Baby also can be different from one another. Some can be easier to tend and some can require lot more attentions. One of the questions that often arise is: Should I give pacifier to my baby?
Most commonly parents who used pacifier when they were your tend to give pacifier to their baby.
There are different arguments for giving or not giving pacifier to baby and toddlers.
Pacifiers had been believed to decrease the change of Sudden Infant Death Syndrome (SIDS). It is believed that baby who were given pacifier do not sleep as deep as those not using one.

Pacifier had been believed to be better than sucking thumb. Some babies have more urge to suck their thumb more than others. This even had been shown from ultrasound while there were inside the womb. Some parents believe that giving pacifier will prevent thumb sucking habit, which may not be the case. Infant has sucking reflex, and as said, some have more urge than others.

Hospital had suggested that premature babies who were given pacifier seem to have a better growth.

Pacifier is believed that it can relieve stress for infant and toddlers upon adjusting to new situations. It is considered as a transitional object.

Pacifier is believed to help babies fall asleep and stay asleep.

Pacifier is believed to cause nipple confusion for those who are given bottle feeding and pacifier while breastfeeding at the same time.

Pacifier is a cause of poor hygiene, since they are being re-used over and over again often without cleaning.

Pacifier is very hard to wean off.
Should I give pacifier to my baby?
Pacifier may lead to braces
Prolonged use of pacifier can lead to same problem as thumb sucking. It can cause improper growth of the mouth, misalignment of teeth and changes in the shape of the roof of the mouth.
Pacifier may lead to ear infections (otitis media)
Pacifier has been reported by Academy of General Dentistry as a source of ear infection because it causes prolonged abnormally opening of the auditory tubes which will allow secretions from the throat to seep into the middle ear and lead to middle ear infections. This may require surgery, if treatment with antibiotics failed.
Pacifier or no pacifier?
Bottom line, it depends on the preference of the parents or caregiver. There are so many conflicting if information against and supporting the use of pacifier for baby and toddlers.
If you decide to use pacifier:
Do not overuse it, it will limit communication between baby and parents or caregiver
Keep it clean! Clean it in boiling water or some can be cleaned through dishwasher. Ensure that it is washed with soap and rinse it well before using.
If you have any health related questions, you should contact your own physician!