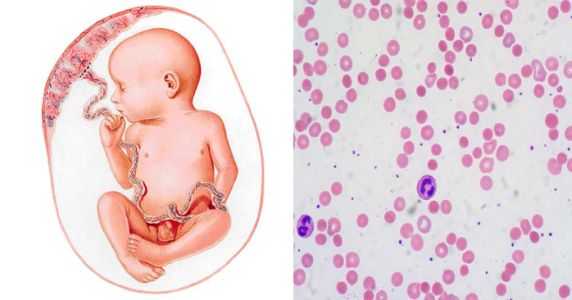 Women have higher risk of becoming anemic during pregnancy due to increase of iron requirements.  The amount of blood increases by 20-30 percent during pregnancy. Iron is essential for making hemoglobin, the protein in red blood cells which carries oxygen for other cells. During pregnancy, iron requirements increased significantly, in order to produce hemoglobin and also needed for developing baby and placenta.
Very commonly pregnant females do not have adequate amount of iron needed to make the hemoglobin during second and third trimester. Thus, they become more anemic due to the increase of requirement.
Mild anemia during pregnancy is normal. It is due to increase of the blood volume. However, severe anemia, which is abnormal, can put your baby at risk of having anemia during infanthood. Also it poses risk for having pre-term delivery to the mom or low birth weight to the baby and can increase the risk of increased blood loss during delivery.
Iron supplementation during pregnancy is very important. Any good prenatal vitamin will contain iron supplementation. Depending to the degree of anemia, extra iron supplementation will be needed.
If you have any health related questions or concerns, you should consult your own physician!