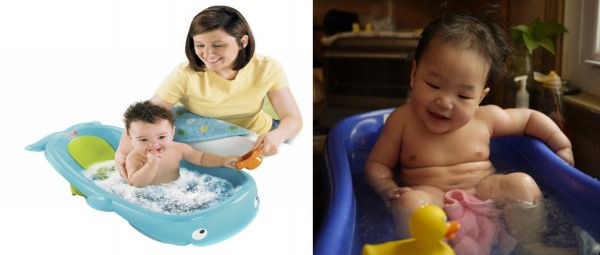 Giving a bath to newborn the first time can be a big challenge for new parents. They do not have ability to hold their head up yet, and some of them are so tiny. Parents or caregivers who bathe newborn have to ensure that his head and face is not soaked into the water, no soap is getting inside the eyes. As the baby grows, giving bath can be a fun activity for parents and caregiver since lot of babies love to take a bath. Some may even love to play with water and it is quite an enjoyable activity.
Safety is then main concern when bathing the baby. There have been reported incidences of baby drowning if bathing is not done properly.
Here are some tips for giving bath to your baby safely:
Always make sure that baby is under your watch at all times. Never leave a baby, especially newborn around the water. Baby drowning has been reported due to negligence, even this can happen to toddlers.

Prepare everything before you start giving bath to your baby. Have all the things you will need within reach. Basic things needed to bath your baby: baby soap, shampoo, washcloth and towel.

Bathing newborn carries the most challenge. You have to ensure that their head is not soaked into the water, and usually they are more slippery. Some of them may even be premature, which means you are bathing a smaller baby. If you have everything ready within reach, means you can focus more on keeping their head up for their safety.

Using a bathtub is the easiest way to bath your baby. Sling will be needed to bath your newborn, at least until he or she can sit or hold their heads up on their own.

Always check the water temperature before placing you baby on the water, whether you are using bathtub or running water from the faucet. This is to avoid skin burn or water which is too cold. Warm water should be used for bathing. You can test the temperature by dipping your elbow or inner wrist into the water. If you are using bathtub, some of them may come with attached temperature indicator.

Stay focus while giving bath to your baby. Phone or door bell can be a distraction. If you in the middle of giving a bath, best is to ignore them. If it is something emergent, take your baby out of the water, dry him or her promptly and place your baby at a safe place before responding to any distraction. This should apply for newborn, baby and toddlers at any ages. Your little one safety is the most important.
Enjoy every activity you do with your little ones, as they grow very fast. As you get used to bathing your baby, it can be a fun activity to play and teach your little ones. But always remember, that safety is number one.  Have a happy bathing!