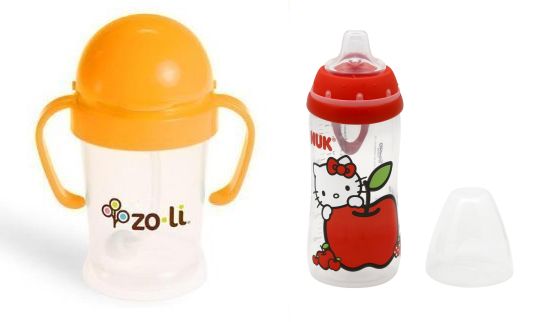 Sippy cup is used to transition baby from breastfeeding or milk bottles to cup. There are many kinds of sippy cups available on the market, and it usually goes with baby's preference.
Here are tips to successfully introducing sippy cup:
Ensure that your baby is ready to use sippy cup, which is usually somewhere between 6 to 12 months of age.

Demonstrate to your baby how to use the cup, especially for the first time and if it's a new type of sippy cup. Elder siblings can be a good role because kids love to mimic others. Give appreciative sounds to encourage your baby to use it until he or she is successful. Remember, it may take multiple attempts before they can use it successfully.

If your baby refused one type of sippy cup, do not get discouraged. Try different kinds. It can take several attempts to find which one they prefer most. If your baby appears to have difficulty to suck on a sippy cup with the valve, you may want to consider removing the valve. Please be gentle and aware that the liquid can flow lot faster without the valve.

Dipping the spout of the cup to certain liquid (e.g. milk, juice) can make your baby more interested to use the cup. They may not realize initially that there is something inside the cup

Avoid sippy cups upon sleepy or cranky times. They can become fussier. Best time is usually in the morning or during the day when they are most awake or cheerful.

Best type to try for first sippy cup is one with soft and rubbery spout, which is much closer to the feel of a nipple. As an option, you can find one that has interchangeable spouts.

Avoid association that your baby may develop with certain drink with the sippy cup use. Milk is usually recommended to use first, otherwise baby may have an idea that sippy is only for juice or water and hence refuse milk from the same cup.
Always use the sippy cup in moderation. Avoid use prior to bedtime because it tends to cause tooth decay. Always clean the sippy cups properly, because it's a favorite spots for bacteria to grow.
If you have any health related question, always consult your own pediatrician or family doctor!