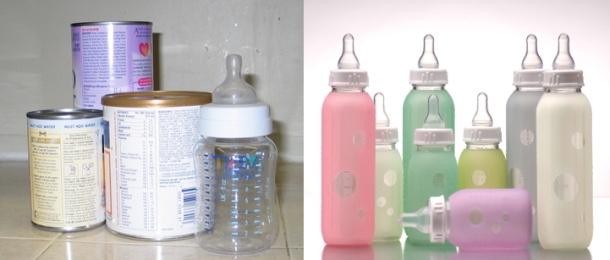 Breastfeeding is always the best options for mom and baby. But what if you cannot breastfeed? Do not get discouraged since nowadays infant formula is widely available and better formulated. Even some of the moms who breastfeed supplement breastfeeding with infant formula from time to time.
How to choose the best infant formula?
There are multiple different forms and varieties for infant formulas. It is not as complicated as it seems. Choices can be made according to parents' preferences, unless certain medical conditions apply.
There are ready-to-feed liquid, concentrated and powdered infant formulas. Ready-to-feed liquid formula is the most expensive form, but most convenient and easiest to prepare. Powdered formulas are the cheapest form, and one which require most work to prepare. Some powdered formulas may come in premeasured packets or cans, and usually measuring scoop is included with the package.
Most of infant formulas are cow's milk based. This kind of formula is safe for baby even though baby under a year old are not supposed to drink cow's milk since these formulas are made with altered cow's milk which are safe for babies. The alteration produced digestible protein, and lactose is added to make the formula similar like breast milk. Often cow's milk formulas are added with required nutrients such as iron, as recommended by the American Academy of Pediatrics.
Soy based formula usually recommended only for baby who cannot tolerate cow's milk based formula due to lactose intolerance or milk allergy. As soon as it's safe to return to milk based formula for those with lactose intolerance, it is recommended to do so. Usually soy based formula is given up to several months until digestive enzymes return to normal. If milk allergy is present, specialized formula may be required since some babies with milk allergy are sensitive to soy based formula too.
Specialized formula is only indicated for certain medical conditions, as recommended by your pediatrician.