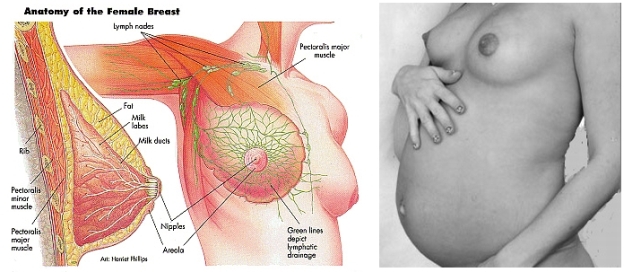 Breast care is an important part of pregnancy since breasts will grow and may lose their shape and firmness. It may ensure better and smooth milk flow for breastfeeding and also may maintain the shape of the breasts after delivery. Often expecting mom ignores breast care due to not knowing the benefit of breast care during pregnancy.
Breast changes during pregnancy are caused by hormonal changes. Here are changes in breast during pregnancy:
Increased bust size and tenderness. Some women may feel swelling or sore sensation on their breasts. Breast tenderness is one of the early sign of pregnancy.

Darkening of the nipples and areola, enlarged and more prominent nipples.

Darkened and prominent veins may appear along the breasts, due to increased blood flow to the breasts.

Prominence of small bumps around the surface of the areola, called Montgomery's tubercles.

Itching of the breasts may occur, as it grows. Also some women may develop stretch marks on the breasts.

Leakage of yellow and thick substance from the nipple, called colustrum may occur. Usually this happens in third trimester.
Breast care is recommended after 5-6 months of pregnancy, since any manipulation which involves the nipples can lead to miscarriage and uterine contractions. Breasts size will grow most during the first trimester. This will continue until delivery and breastfeeding (for those who breastfeed the baby) and will return to original size after discontinuation of breastfeeding or delivery (if no breastfeeding). If you have bigger breasts size prior to pregnancy, you will need to pay more attention on your breasts to prevent unshaped breasts and stretch marks in the future.
Breast care during pregnancy:
Wear a good supportive bra, which is usually 1-2 size larger than your normal bra. Bra should be fit and flexible, and ones without underwire are preferred. Underwire and bra which is too small can give extra pressure on milk glands and ducts, ending up with disrupted milk production.

Wear a maternity sleep bra which good support at night.

Avoid application of soap on your nipples, as it dries out the nipples from its natural oil and make them cracks easily.

If you experience colustrum discharge, you can use breast pads inside the bra. Change as needed and allow nipples to air dry each time.

Itching can be relieved by applying moisturizers or cocoa butter which can prevent stretch marks.
Three important steps of breasts care:
1. Massage
Massage can be done upon bath or shower, best done with warm water. Some may prefer to use baby oil or coconut oil, towel and cotton.
How to massage? Wash your breast using warm water, and you can start massaging with or without oil. Use both hands, rotate around the breast clockwise and then counter-clockwise. Follow by massaging from the bottom toward the nipple. Avoid nipple area due to there is no glands on the nipple and it can stimulates prolactin production and cause uterine contractions.
After massaging your breast, knock/tap your breast with your fingertips or knuckles to improve blood circulation on your breasts. Then clean the nipples with cotton and oil to preserve the moisture and flex the nipples. This may prevent cracks when you start breastfeeding. When you are done, clean the breast and nipple with warm water followed by cold water, to facilitate the blood circulation. Wipe gently with a soft towel to dry.
2. Gymnastics
Gymnastics strengthens the pectoralis muscle on the chest which compresses the breasts and stimulates better milk productions.
3. Wear a good supporting bra
A good supportive bra should be fit and flexible. Usually it is one to two sizes larger than your normal regular bra. Ones without underwire are preferred. Underwire and bra which is too small can give extra pressure on milk glands and ducts, ending up with disrupted milk production. Use of cotton supportive bra at night is recommended. Sport bra can be one of the options.