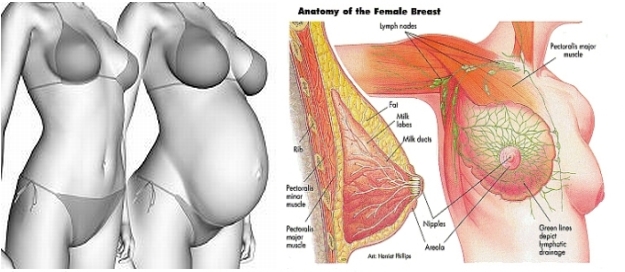 Breast changes during pregnancy are caused by hormonal changes. Here are changes in breast during pregnancy:
Increased bust size and tenderness. Some women may feel swelling or sore sensation on their breasts. Breast tenderness is one of the early sign of pregnancy.

Darkening of the nipples and areola, enlarged and more prominent nipples.

Darkened and prominent veins may appear along the breasts, due to increased blood flow to the breasts.

Prominence of small bumps around the surface of the areola, called Montgomery's tubercles.

Itching of the breasts may occur, as it grows. Also some women may develop stretch marks on the breasts.

Leakage of yellow and thick substance from the nipple, called colustrum may occur. Usually this happens in third trimester.