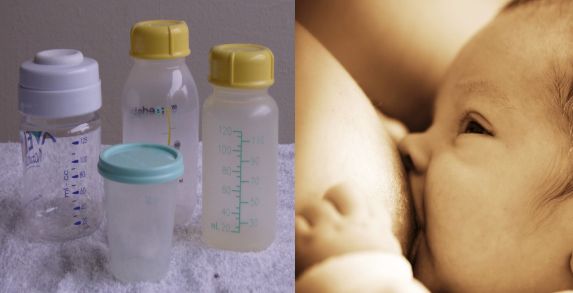 How long should I breastfeed my baby?
American Academy of Pediatrics (AAP) recommends exclusive breastfeeding for the first six months and support breastfeeding for up to a year.  World Health Organization (WHO) recommends exclusive breastfeeding for the first six months and support breastfeeding for up to two years. Support for continuation of breastfeeding after six months is optional, as long as desired by mom and baby.
Exclusive breastfeeding means no other food or drink including water, except breast milk, in exception of medication (vitamin, mineral and medicines). Few drops of water may be allowed, just to rinse the milk residue inside baby's mouth after each breastfeeding. After six months of exclusive breastfeeding, babies who continue to breastfeed will need complementary foods to supplement their nutritional needs for growth and development.
Why breastfeeding?
Breastfeeding has been shown to benefit baby and protect your loved one from chances of infection because it contains immunoglobulins. Exclusive breastfeeding has been shown to lower the risk of gastrointestinal infection, most likely due to IgA which coats baby's digestive tracts. It also contains IgG and IgM which provide immunity on babies up to 6 months to fight against infections. This will provide protection until baby's own immune system is produced and function properly. Colustrum, which is the thick secretion coming out initially is very rich in immunoglobulin. Therefore it is very beneficial to give colustrum to your baby instead of throwing it away.
Breastfeeding is also providing benefit to mom, since mom who breastfeed the baby will obtain more rapid weight loss after delivery and also delayed return of menstrual period. It also reduce the risk of getting breast cancer.
Breastfeeding also increases the bonding between baby and mom, which is formed during breastfeeding. Breastfeeding can take 30 minutes, and frequency may vary from babies to babies. Your baby is the best indicator to tell you how often he or she needs to be fed.
Breastfeeding is cheaper than feeding your baby with formula milk. Also not to remind the cost of the bottles and wastes produced from using formula milk; which is not environmentally friendly.
If you cannot breastfeed your baby due to work, using breast pump to collect breast milk and store it in the refrigerator/freezer is an alternative. Read more at http://www.thebabyandmomworld.com/breastfeeding-while-working-is-it-possible.html.
If you or your baby is unable to breastfeed due to medical reason, you may want to consult your physician or pediatrician for further advice.
Always consult your pediatrician prior to feeding your baby with something else other than milk!