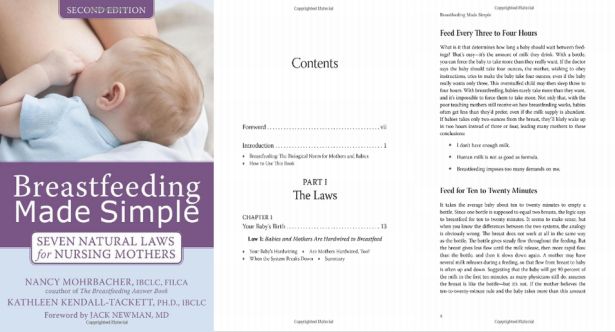 Breastfeeding Made Simple: Seven Natural Laws for Nursing Mothers
Editorial Reviews
I recommend this groundbreaking book to all my clients.
—Diane Wiessinger, MS, IBCLC
I fell in love with this book; every page is a jewel. It simply 'delivers' what every mother needs-the natural laws to build a breastfeeding relationship. Understanding the first forty days has changed the way I talk to new parents and teach breastfeeding supporters. Finally, here is a book that talks about breastfeeding without all the rules. This book lives in my bag to share with everyone!
—Carrie Finger, BFA, IBCLC, LCCE, lactation program director at Aviva Institute
Product Description
Breastfeeding may be natural, but that doesn't mean it's easy. Due to a combination of cultural, social, and economic factors, only 74 percent of women breastfeed at the time of hospital discharge, and after six months, that number dwindles to 32 percent. Meanwhile, research proving the health benefits of breastfeeding continues to grow exponentially, and one study even shows that exclusive breastfeeding leads to better and longer sleep at night for parents. The result is a population of new mothers who want to breastfeed but don't know how.
Breastfeeding Made Simple teaches mothers and mothers-to-be seven natural laws for successful breastfeeding. This information is distilled from various fields and up-to-date research and is presented in a practical, straightforward way. This new edition has been updated with the latest research on breastfeeding and includes advice for correcting common problems. Chapters offer guidance for maintaining proper attachment, reducing the pain of nursing, understanding normal breastfeeding patterns, maintaining adequate milk production, weaning, and more. Special situations, such as mothers with breast reductions and infants with special needs, are also addressed by this comprehensive handbook. Also, the book now includes a useful index busy moms can use to find solutions quickly and easily.
Average Customer Review
Most Helpful Customer Reviews
30 of 30 people found the following review helpful:
A truly outstanding breastfeeding guide,March 15, 2006
By

Ann Douglas "pregnancy/parenting author"

(Peterborough, Ontario Canada)
I purchased this book while researching the breastfeeding chapter in one of my forthcoming books. I immediately fell in love with this book — specifically, with its innovative approach to the material (the seven natural laws) and its warm, supportive, and mother-friendly tone. The authors do a terrific job of explaining the root causes of many common breastfeeding problems in ways that make so much sense. Their section on how taking a "left-brained" approach to the very "right-brained" act of breastfeeding is totally brilliant. I can't praise this book highly enough.