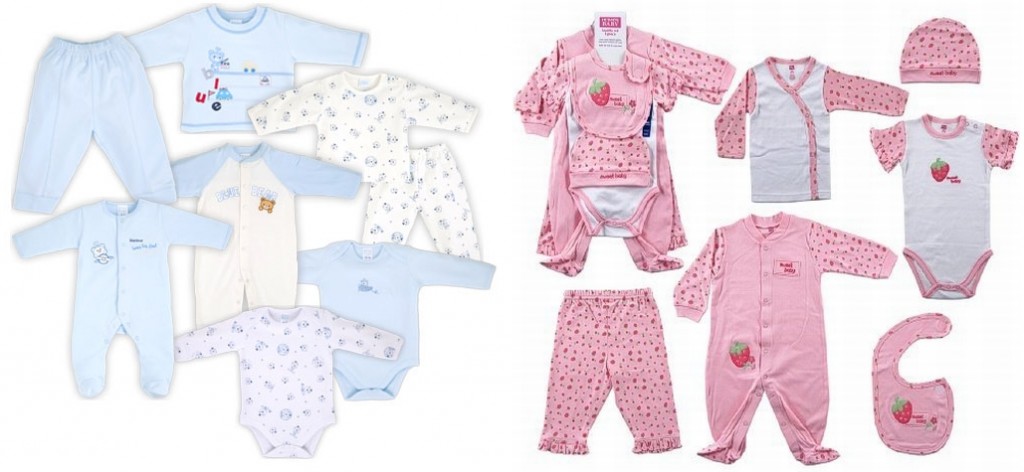 Looking for baby clothes can make you spent hours just for browsing around, either in-store or online. There are extensive collections of baby clothes nowadays, with various types, styles, colors, brands and more, not to mention different quality. Main thing when shopping for baby clothes, is to shop wisely, consider what your baby will need most as his/her basic clothing and most important thing is their comforts.
Things to consider when buying baby clothes:
Comfort is more important than appearance
Baby clothes which look cute and attractive may not suit them best. Baby skin is very soft, tender and very sensitive, especially newborn. Their clothes should be soft, absorbent and made of natural fibers. 100% cotton is best choice for baby clothes material. Choose baby clothes which are not too tight, so they can move easily without feeling suffocated by the clothes. Otherwise they will end up in discomfort caused by the clothes which are made of wrong material or clothing which are too restrictive. There are plenty of options for baby clothes made from 100% cotton which are cute and attractive.
Find baby clothes which are more practical with easy accessibility
Most parents will look for baby clothes according to gender. This makes shopping for baby clothes easier. Baby often requires frequent changes of clothing. And this may happen outside the home, when you in a hurry or in an inconvenience place.  Find one which is not tight fitting and easy to access. Too many strap, buttons and fastener will make changing more difficult. Choose one with sleeves that is not too difficult to wear for them. Otherwise poor baby will suffer every time you change their clothing. Bodysuits, footie and sleeper are popular choices to get. Remember, quick and easy access, easy to wear and to take off.
Go for the care labels before you buy, preferably. Easy care is very important, since you will end up washing their clothes quite often depending on how frequent they need to change. Machine washable is best options. To be safe, go for cotton fabric since they will be machine washable. Rarely baby clothes will require dry cleaning, unless you pick one with lot of details.
Baby clothes are one of the basic necessities for baby. Most parents will shop according to gender to make it easier. Clothing for girl is dominated with pink colors and boys with blue and brown colors. These are not restricting upon buying baby clothes or other items such as towels, washcloths, bibs, socks, mittens, shoes or other accessories. Variety of colors might be better, especially when you are trying to introduce them to learn about colors.