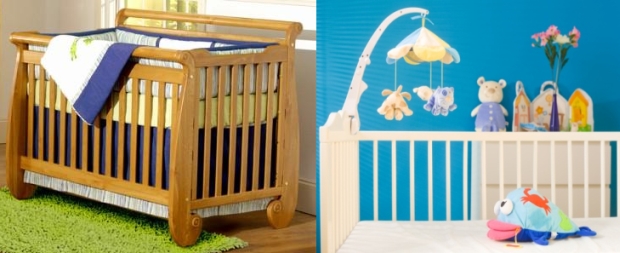 Crib is one of the essentials for newborn, since newborn sleep for the majority of the day. Therefore choosing the best crib for your precious little one is very important. There are plenty of options available, depending on what you need. Safety measures play an important role, since there have been safety issue and recall on several type of cribs due to some number of crib accidents. Newer cribs sold in the markets nowadays have certain safety measures which have to be followed strictly.
Choosing the best crib for the precious one can be a challenge since there are so many different styles and options of cribs available on the market. There are several different types of cribs available, whether one has drop gate, convertible or just a conventional old-fashioned crib. This can be overwhelming for some, especially new parents.  Here are some tips to choose the best for your precious little one.
Tips for choosing the best cribs:
Money does not reflect quality. Getting a crib with higher price tag does not mean that you baby is getting a crib with best quality. Manufacturers have to meet certain standard in producing a crib. Some may have less quality control and assurance than others.  Self inspection, recommendations from friends and family or online reviews from previous crib buyers is a very useful resource.

Determine the price range and type of crib you want to get for your baby. With several options available, such as conventional old-fashioned crib, all in one, convertible to one with drop gate, it all depends on your preference and convenience. Some parents shy away from one with drop gate, since there have been cases of injuries reported on babies using this kind of crib.

If you choose one with drop-side, always check that lock and latches are installed properly and baby cannot release them from inside of the crib and cause falls. Some cribs have double release mechanisms which is safer than single lock and latches.

Make sure the crib you are planning to buy or looking at has no rough or sharp edge, in case baby falls on it. Otherwise it will be a health hazard, and prone to causing unnecessary bruises and injuries.

No end panels or bars should be on the cribs where baby can climb on. Some may have railings, so it can be used till toddler age. If you choose a crib with railings, it should be sturdy and not bendable. Round railings is better than other shapes.

Always inspects the actual crib after buying one, before and after assembly. If you notice an issue, contact the seller or manufacturer.

Ensure the crib has good finishing, smooth and evenly painted.

A safe crib should have a firm, tight-fitting mattress, no missing/broken hardware or slats and no cutouts in the head- or foot-boards. Slats should be no more than 2 3/8″ apart (the width of a soda can). Corner posts should not be higher than 1/16″. Loose fitting mattress can cause baby's body part to get stuck in between the mattress and crib, causing strangulation and injury.

Cribs are designed with different adjustable mattress heights. Choose one with at least two different heights, the more the better. Some even have four different adjustable heights. This will help you to lay you newborn gently while you have to bend down less, and as you baby grows you will need to lower down your mattress heights to prevent injury and falls.

Good crib should have at least one stabilizing bar underneath the springs, more is better.

Convertible cribs may be a good option for many parents, if you plan to use you cribs for a longer period of time. It can be converted into daybed, toddler bed and even full size adult bed. Some may require extra tools which are not included with the cribs set.
There are different places in-stores or online which sell baby cribs. Some may not have it in stock, which require your crib to be shipped. If so, ensure that your crib will be shipped and delivered prior to your baby is born. Otherwise you will need to order early. Shipping charges vary from stores to stores, and some can be very pricey. Some online merchant may offer free shipping which can save you extra money.
Click on item below to see more information, provided by www.amazon.com