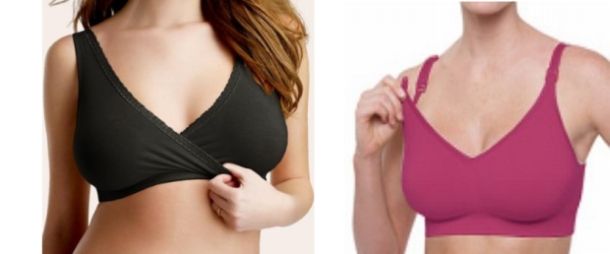 Increasing size of your breasts require you to find new bras with different sizes. Usually it is one to two sizes larger than your regular bras. There are plenty of options and style for bras available. Choosing right one is important to maintain the shape of your breasts during pregnancy, nursing and afterwards and prevent sagging breasts.
Tips for choosing the right bra:
Bra should be fit and flexible, not too tight or too big. As breasts size grows during pregnancy, different sizes of bra may be needed accordingly.

Get one with broader shoulder straps which provide better support for your breast. It is also more comfortable to wear.

Avoid getting a bra with underwire.

Choose from maternity/nursing bras for daytime use. At night it is recommended to wear bra to provide support on your breasts. Maternity/nursing bra or sport bra can be an option.

Best time to buy nursing bra is during the last few weeks of pregnancy, because it reflects the size of your breasts upon delivery. One with easy access such as one-hand cup opening or nursing flap is preferred.

Back-fastening bra with different hook settings is preferred, so you can adjust according to your need.