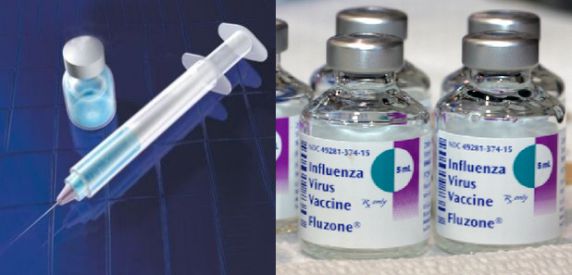 Influenza has been known to be responsible for around 36.000 deaths in the US annually. Approximately 20.000 children under the age of 5 are hospitalized each year from the flu. Children under the age of 5 are vulnerable to influenza viruses that cause the flu, and can cause serious complication such as pneumonia. Rate of infection are highest among children, those with serious illness and death are most prevalent in people above the age of 65. Flu vaccination or flu shot is the primary method of preventing from flu and severe complications. It is recommended for the young and old.
American Academy of Pediatrics (AAP) and the Advisory Committee on Immunization Practices recommended that flu shot is given annually to all healthy children from the age of 6-23 months. These ages are at high risk of hospitalization from the flu. For children under 6 months old, FDA does not approve the use of inactivated flu vaccine since their immune system is not fully developed yet.
Center for Disease Control and Prevention (CDC) also recommends the flu shot for everyone including children 6 months and older. None of the committee recommended vaccination for those younger than 6 months.
Flu shot is usually offered in October, at the beginning of the flu season. Flu season generally occurs from November to April the following year. It is recommended to obtain one in October or November annually. Protection against influenza generally develops around two weeks after the shot and may lasted up to 1 year.
Flu vaccine content changes from year to year. There are many strains of flu viruses available. In general flu shot only contain three strain of flu virus. Unfortunately, it only provided some protection against the available strains. If your child becomes infected with the strains covered in the vaccine, usually the person will have a milder case.
Children younger than 9 years old will need two shots, given one month apart. It can be given at the same time as the other vaccination. Healthy children age of 2 and older can get the nasal spray version of the flu vaccine, called FluMist.
What is the contraindication of flu vaccine?
Children younger than 6 months old

Those with serious or severe allergic reaction to eggs (flu vaccine may contain traces of egg protein)

Severe reaction to flu vaccine in the past

Has moderate or severe illness

Has fever
What are the side effects of flu vaccine?
Most commonly it causes soreness at the injection site. Some can develop a fever and feeling achy and tired (malaise and fatigue). These can last for few days. Less than 1% reported more these symptoms.
Children who get the nasal spray of flu vaccine (intranasal influenza vaccine) may develop runny nose, wheezing, headache, vomiting, muscle ache and fever. Usually these are milder and occur on shorter term compared to the actual flu infection.
If you have any health related questions, you should contact your own physician!