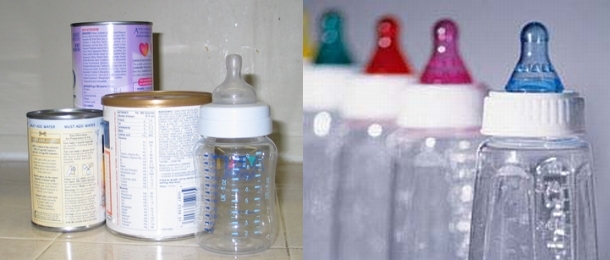 Preparation of baby or infant formula will depend on what form of formula you have bought. You will need to follow manufacturer's recommendation for these.

Here are some basic rules on preparing baby formula:
Make sure the bottles you will be using has been washed and dried properly.
For ready-to-feed liquid formulas, just pour the content into feeding bottles and you can use it right away.
For concentrated formulas, you will need to mix the concentrate with sterile water. Follow the manufacturer's instruction on water to concentrate ratio. Unfinished open can of concentrate formula need to be refrigerated promptly and can be kept up to 48 hours.
For powdered formulas, add one scoop of powder for every two ounces of sterile water unless instructed differently by the manufacturer. Stir thoroughly until there are no more clumps in the bottle. Warm water is preferable to make the powder dissolve easily. A good thing about powdered formula is that it is more convenient to travel with and will not spoil.
If you prepare any infant formula in advance, you will need to store them in the refrigerator. If not used within 24 hours, then it will need to be thrown away.
To warm refrigerated formula, you may use warm water. Do not use the microwave to heat the bottle. Place the container or bottle in warm water and rotate it frequently. Test the temperature of the formula by putting few drops on your wrist or palm prior to feeding.
Do not thaw any formula or milk at room temperature and do not refreeze thawed milk. Thawed milk or formula need to be used within four hours after warming.
Never mix more water than recommended to dilute the formula in order to save money. This will result in water intoxication syndrome which can lead to death of your precious one.