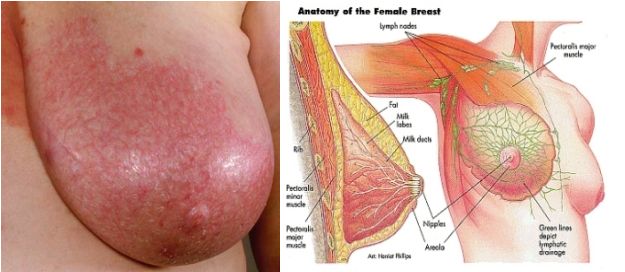 Mastitis is an inflammation of the breast tissue. It is usually experienced by breastfeeding moms. It is caused by a clogged duct in the nipple of a nursing mother. There is swelling, tenderness and pain of the breast. It may lead to an infection is not treated, as treatment with antibiotics may be required. Untreated mastitis may lead to an abscess which will need surgical procedure (incision and drainage).
How to treat mastitis?
Prevention from getting is mastitis is the key. However, sometimes mastitis may occur. Treating mastitis will need more intervention than relieving breast engorgement.
Here are several ways to treat mastitis:
The more severe the symptoms of mastitis, means there is infection involved. Signs and symptoms of infections will be present. You may need to obtain a leave from work accordingly to ensure a quick recovery. Plenty of rest will relieve one from stress and replenish the immune system.
Take your baby to the bed with you and nurse your baby in bed.
Give warm and cold compress on the breast and alternate the side of breastfeeding.
Warm compress will increase circulation, and able to relieve the clogging of the ducts on the inflamed and infected area. Cold compress will relieve the pain. Warm shower will help as well. Never use hot water or icy cold water directly on your skin. For warm compress, use a piece of towel dipped into warm water and then applies directly to the breast and repeat several times. For cold compress, use crushed ice inside a plastic bag covered with a thin clothes or towel then apply to your breast. Avoid applying cold compress for too long.
Gently give massage to your breast especially the tender area.
Giving massage will increase the circulation, and may relieve the clog. It is best done while getting warm shower or bath.
Continue breastfeeding regularly, especially on the affected side.
Mastitis is not a contraindication of breastfeeding, unless there is clear pus or intolerance to breastfeeding. If breastfeeding cannot be continued, then you may need to pump the affected breast to continue the milk flow and prevent further clogging.
Change the baby position of breastfeeding.
Changing the baby position for breastfeeding may aid the emptying of the duct and prevent the still or not flowing of milk from certain area which may lead to mastitis.
Plenty of fluid is needed during the episode of mastitis. However, it is important to ensure that you obtain plenty of fluid during breastfeeding, even though the infection is cleared.
Take analgesics as needed, if fever and pain is present.
Analgesics use may be needed if fever and pain is present. In general, acetaminophen/paracetamol and ibuprofen is safe to use unless there are other condition present. Letting the pain to continue may decrease breast milk production.
Wear a loose fitting bra, or not wearing one during this episode.
Ensure you obtain good nutrition.
Good nutrition is needed to boost the immune system to ensure a quick recovery.
Do not stop breastfeeding during this episode.
Some babies may refuse to breastfeeding due to change of the taste during this episode. If this happens, continue to pump the breast milk to relieve the engorgement. Unrelieved engorgement and untreated mastitis may lead to breast abscess. Usually the taste of breast milk will return to normal as the mastitis is cleared.
Antibiotic may be needed for mastitis with infection.
It is best to give treatment earlier than later. Later treatment may cause baby to wean off from breastfeeding, may lead to breast abscess and recurrence of infection.
Mastitis with breast abscess will require surgical procedure which is incision and drainage.
Frequently prescribed antibiotics for mastitis are cloxacillins and cephalosporins since the most common cause is Staphylococcus aureus. Other antibiotics which can be used are Augmentin or Erythromycin. They are quite safe to take while breastfeeding. Antibiotics have to be taken for the full course as prescribed. If mastitis does not get better after few days of taking antibiotics, you will need to inform your doctor since you may need a different antibiotic as résistance may be present.
Read more about mastitis here.
Always consult your doctor if you have any health related issues!