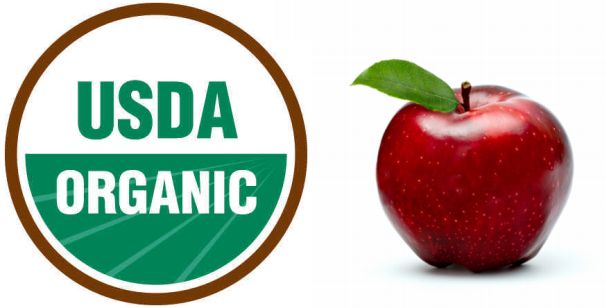 Does my baby need organic food? Yes
Should I buy and serve all organic food available in the market for my baby? No.
How to choose which one is best food choice for my baby? It is not always easy to decide which food is best, especially for the little ones. They depend completely on you. As a parents or caregiver surely you want the best for them. Buying all organic does not necessary mean that they will obtain the best nutrition. Organic food in general means lower level of pesticide residues in the food.
What organic fresh produce to buy?
Apples

Celery

Strawberries

Potatoes

Grapes

Peaches
These foods above contain more chemical and fertilizers than other fresh produce. Apples and celery is the top two ranks produce for pesticide exposure. Apples are noted as healthy food, as goes the saying "One apple a day keeps the doctor away". Unfortunately getting regular apples can be more harmful since it contains high pesticide residue.
Milk is one of the main foods for children without dairy allergy. In general they consume lot of milk every day. It is recommended that children drink at least two-three serving of milk daily. Some farms add pesticide directly to cows' hides and feed their cattle with pesticide-treated grains, which in the end will results in pesticide containing cow milk. Some cow's milk also contains growth hormone, which is usually used by farms to increase the cow's milk production.
The same applies to yogurt and cheese too, buy organics.
Serve your little ones only organic meet and eggs. Organic eggs in general contain higher omega-3 fatty acid levels. Organic meats contain no antibiotics and hormones which are usually used to gain more weight of the livestock.
What non-organic products to buy?
Onion

Pineapple

Corn

Sweet peas

Mangoes

Cantaloupe

Watermelon

Sweet potatoes
In general, you do not need to buy organics for produce with thick skin or food with skin that you need to peel before consumption. They are less absorptive and retaining chemical and fertilizers.
Organic bread usually contain higher amount of sugar, processed oils and refined flour. Look for bread which contain shorter ingredients list with no added sugar. Whole wheat breads offer fibers and rich mix of vitamin and minerals.
Peanuts are exposed to high level of pesticides during the growth. Peanut butter contains not significant trace of the pesticide residue after being processed. Unless your children eat a lot of peanut butter, no need to get organic peanut butter.