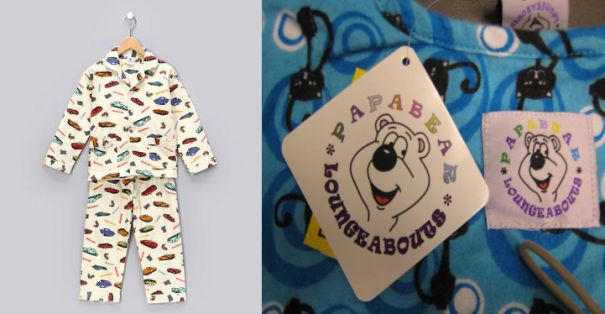 Papa Bear Loungeabouts Children's Pajamas Recalled by Retailers Due to Violation of Federal Flammability Standard
February 28, 2012
WASHINGTON, D.C. – The U.S. Consumer Product Safety Commission, in cooperation with the firm named below, today announced a voluntary recall of the following consumer product. Consumers should stop using recalled products immediately unless otherwise instructed. It is illegal to resell or attempt to resell a recalled consumer product.
Name of Product: Children's pajamas and sleepwear
Units: Estimate of 10,000 plus
Importer: Papa Bear Loungeabouts, LLC, of Los Angeles, Calif.
Hazard: The garments fail to meet federal flammability standards for children's sleepwear, posing a risk of burn injury to children.
Incidents/Injuries: None reported.
Description: This recall involves all styles of pajama sets (tops and bottoms), separate pajama pants and nightgowns sold in boys and girls sizes 0-6X and 7-14. A garment label with the name "Papa Bear Loungeabouts" and a picture of a bear is sewn into the center back neckline on the outside of the garments. A hanging label features the same name and image. The sleepwear is 100% cotton poplin or 100% cotton flannel and the different styles come in a variety of colors and novelty print designs, including: bling, cows, Scotty dogs, hotrods, basketball, sports, vintage, rodeo, rock and roll, ballerinas, popcorn and more.
Sold at: Children's clothing and specialty retailers nationwide and online from January 2004 to December 2011.
Manufactured in: China
Remedy: Consumers should stop using the recalled sleepwear immediately and return the product to the retailer where the product was purchased for a refund, exchange or store credit.
Consumer Contact: For additional information, please contact the retailer from whom you purchased your recalled products. Participating in this recall are the following retailers with their contact details:
If your child's product happened to be on the recall list, stop using the equipment immediately. Contact the manufacturer immediately to confirm about the recall and inquire about the next step and relevant information. Do not use the products until the repair kit or replacement has arrived or has been installed.
Keep your baby safe!
Complete list of up-to-date product recalls can be found at: