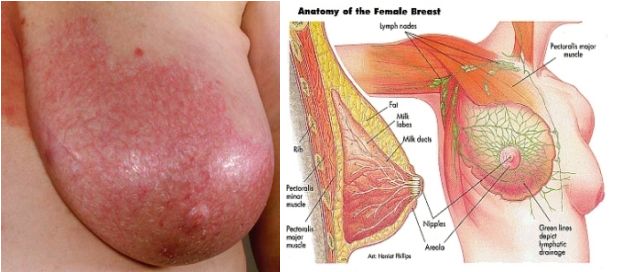 Mastitis is an inflammation of the breast tissue. It is usually experienced by breastfeeding moms. It is caused by a clogged duct in the nipple of a nursing mother. There is swelling, tenderness and pain of the breast. It may lead to an infection is not treated, as treatment with antibiotics may be required. Untreated mastitis may lead to an abscess which will need surgical procedure (incision and drainage).
Signs and symptoms of mastitis:
Tenderness and pain of the breast, along with redness, swelling and feeling warm to touch. This can be partial or involving the whole breast on one side.

Lump on the breast, and enlargement on one side of the breast.

Tiredness, feeling of feverish and chills and fatigue. This may feel like that you may have caught a cold or flu (flu-like symptoms). These may precede breast tenderness.

Nausea and vomiting may be present.

Fever, which suggests an infections.

Presence of cracked nipples, bleeding nipples, stressful situation, missed breastfeeding or less frequency of breast feedings prior to above symptoms.

Nipple discharge, which may contain pus.

Nipple sensation changes.

Tender or enlarged lymph nodes in the armpit of the same breast.
Read more about mastitis here.
Always consult your doctor if you have any health related issues!