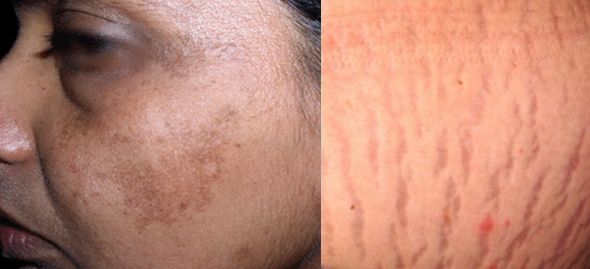 During pregnancy you may notice that there are several changes to your skin which you may never experience before. There are different changes that may happen, some may occurs to you and some may experience none at all. Hormonal changes that happen during pregnancy play a role in these skin changes.
Here is the list of common skin changes during pregnancy:
1. Stretch marks
Stretch marks is the most common skin changes during pregnancy. It can appears anywhere throughout the body, most commonly found on the belly, breast, buttocks and thigh. It can be pinkish or reddish in color. Usually the discoloration will fade after delivery, more resembling the skin color around it. Read more about stretch marks here: Stretch marks during pregnancy, is there anything I can do?
2. Pregnancy glow
During pregnancy, there is increased blood flow throughout the body. This includes face too, resulting in brighter facial color. Hormonal changes during pregnancy also increase the oil glands production, making the face shinier with more glows and blushing. This is commonly known as "pregnancy glow", makes pregnant female looks more attractive. If the face gets too oily from increased oil production, use oil free cleanser and moisturizer on your face.
3. Melasma or chloasma (mask of pregnancy)
Melasma or chloasma is often referred as "mask of pregnancy". Melasma or chloasma is dark splotchy spots on the face from increased pigmentation, which are commonly found on the forehead and cheek. This can be brownish to yellowish. Cause of melasma or chloasma is unknown, usually attributed to the hormonal changes from pregnancy. This may appears darker with sun exposure, and tends to fade to a variable degree after delivery. Not every pregnant female will experience this. Unfortunately this is nothing to prevent this from happening but it can be prevented from worsening. Use a good sunscreen and sun protection when you do any outdoor activities or avoid and limit any ultraviolet exposure in general.
4. Acne or pimples
Hormonal changes during pregnancy tend to cause more breakouts due to increased oil glands production, resulting in pimples or acne. This will become more prominent especially if you already have acne problem prior to pregnancy. Sometimes this is referred as "acne of pregnancy". Good things are that this will subside after delivery. Avoid using any scrubs or exfoliants, wash your face with gentle or mild and fragrance-free facial soap with a strict cleansing routine morning and night. If you tend to have very oily skin, you may use oil-free cleanser before washing your face. Do not use any acne medication without discretion of your doctor or physician, because it can be harmful to your baby. Consult your doctor too if problem persists. On the other hand, there are pregnant woman who reported to have improvement of their acne problem during pregnancy.
5. Varicose veins
Varicose veins are bluish veins which usually appear on the legs, due to increased blood flow during pregnancy. Some may experience discomfort or pain from varicose veins. It tends to happen more often to female who has family history of varicose veins. To decrease the tendency of having varicose vein, avoid standing and sitting for long period of time, keep your life more active by frequent walking, wear supportive stockings and avoid any excessive weight gain during pregnancy.
6. Spider veins or spider nevi
Spider veins or spider nevi are reddish tiny blood vessels just below skin surface which branch out and become more visible during pregnancy due to increased blood circulation. It resembles small spider web, therefore named spider nevi. This reddish spot will fade to upon pressure and go back to reddish color upon release of pressure. More commonly found in Caucasians than other races, and does not cause any discomfort or pain. It can appear on the face, neck, upper chest and arms and tends to disappear after delivery. If spider nevi does not disappear post delivery, laser treatment by dermatologist may help to remove any spider vein for cosmetic purposes.
7. Linea nigra
Linea nigra is the dark line which runs from the navel to the center of pubic bone. This line may have been there and went unnoticed with whitish color or barely visible prior to pregnancy, called linea alba. Some female may have this line extended upward above the navel too. Usually it darkens and become more noticeable during the second trimester of pregnancy, due to hormonal changes and will fade after delivery.
8. Skin tags
Skin tags are small growth of the skin, looks like tiny polyps which appears on any area of frequent frictions such as under the arms, breasts or neck folds. This is caused by hyperactive growth of the superficial layer of the skin. It can resemble skin color or brownish. Some will disappear several months after delivery. If not, those can be removed by dermatologist.
9. Darkening of your skin
Hormonal changes during pregnancy cause increased skin pigmentation. This is more noticeable in the area which is already darker such as freckles, moles, birthmarks, nipples, areola and labia. New moles may develop too. This skin darkening will fade after delivery, but some of them may remains or fade less especially darkening of areola. If there is any suspicious growth or uneven discoloration, you will need to consult your physician or dermatologist.
10. Dry and itchy skin
This is caused by the stretching and tightening of the skin as it grows, resulting in dryness and itching. Usually it happens on the belly, which grows most. It can happen on breasts, hip and thighs as well. Use moisturizer on the dry and itching area. Calamine lotion may be used externally to relieve itching. Avoid hot bath or shower because it will create more dryness on your skin. If there is excessive itching accompanied with jaundice, you need to consult your doctor because you may have cholestasis.
11. Red palm and soles
Your palm and soles may appear more reddish, due to increased blood flow from pregnancy. This is called palmar erythema, may be noticeable as early as the second month of pregnancy. It is not dangerous, and usually will disappear after delivery.
12. Nail changes
Pregnant female may notice different nail changes during pregnancy. It can be faster nail growth, brittle or softer nail than prior to pregnancy. It will usually return to normal after delivery.
13. Puffiness
Puffiness commonly happens during third trimester, due to increased blood circulation. It can be found on face and eyelids, mostly in the morning. This is nothing harmful; unless you have puffiness with sudden weight increase then you should contact your doctor promptly.
14. Heat rash
Pregnant female have increased chances to get heat rash from hormonal changes. In general they already have overheated body from the pregnancy, and they may have increased sweat glands production causing excessive perspirations resulting in discomfort.
15. Pimply eruptions
This rarely happens during pregnancy. Only about one percent of pregnancy experience pimply eruptions, which are itchy, raised red patches on the belly, thigh, buttocks, arms and legs. This is also known as pruritic urticarial papules and plaques of pregnancy (PUPP). It tends to disappears after delivery.
Do not take any medication without discretion of your doctor! Contact your health care provider or doctor if you notice any sudden changes, experience any health problems or have any question on health-related issues!