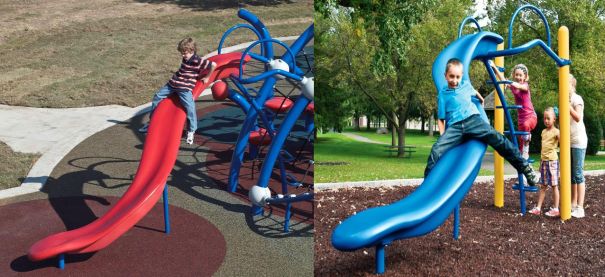 Slalom Glider Recall
February 16, 2012
WASHINGTON, D.C. – The U.S. Consumer Product Safety Commission, in cooperation with the firm named below, today announced a voluntary recall of the following consumer product. Consumers should stop using recalled products immediately unless otherwise instructed. It is illegal to resell or attempt to resell a recalled consumer product.
Name of Product: Slalom Glider
Units: About 900
Manufacturer: Landscape Structures Inc., of Delano, Minn.
Hazard: The Slalom Glider is a playground slide that lacks a transition platform on the top and sides of the chute. Children can fall when moving from the ladder to the slide and when descending the chute.
Incidents/Injuries: CPSC and the firm have received 16 reports of injuries to children under 8-years old, including one bruised arm, 14 fractures to arms and legs, one fractured collar bone and one bruised spleen.
Description: The Slalom Glider is a distinctive 6-foot high playground slide that is curved in shape and made from molded plastic. It includes an arched, tubular steel access ladder. The recalled product comes as a stand-alone slide or as an attachment to other playground equipment. The recalled products have model numbers 156456 and 172627 and were sold in combinations of colors, including red, blue, tan, green, granite and white.
Sold: To schools and other facilities with playground equipment nationwide between January 2006 and December 2011 for about $2300.
Manufactured in: United States
Remedy: Consumers should immediately stop children from using the recalled gliders and owners will be contacted by Landscape Structures regarding removal instructions. Customers will be given the option of replacing the Slalom Glider with another piece of playground equipment, receiving a refund, or receiving credit towards a future purchase.
Consumer Contact: For additional information, contact Landscape Structures toll-free at (888) 438-6574 Monday through Friday between 9 a.m. and 4 p.m. CT, or visit the firm's website at www.playlsi.com
If your child's product happened to be on the recall list, stop using the equipment immediately. Contact the manufacturer immediately to confirm about the recall and inquire about the next step and relevant information. Do not use the equipment until the repair kit or replacement has arrived or has been installed.
Keep your baby safe!
Complete list of up-to-date product recalls can be found at: