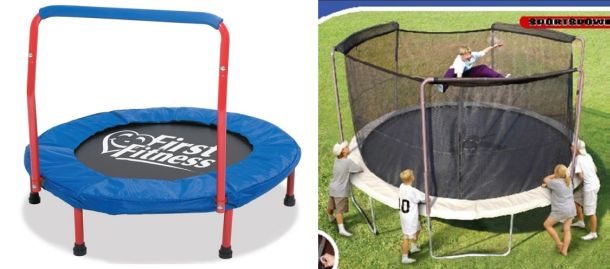 Trampolines Recalled by Sportspower Limited Due to Fall Hazard; Sold Exclusively at Walmart
May 9, 2012
WASHINGTON, D.C. – The U.S. Consumer Product Safety Commission, in cooperation with the firm named below, today announced a voluntary recall of the following consumer product. Consumers should stop using recalled products immediately unless otherwise instructed. It is illegal to resell or attempt to resell a recalled consumer product.
Name of Product: Sportspower BouncePro 14′ Trampolines
Units: About 92,000
Importer: Wal-Mart Stores Inc., of Bentonville, Ark.
Manufacturer: Sportspower Limited, of Hong Kong, China
Hazard: The netting surrounding these trampolines can break, allowing children to fall through the netting and be injured.
Incidents/Injuries: Sportspower has received 17 reports of the net breaking, resulting in 11 injuries including broken bones, back and neck injuries, and contusions.
Description: The recall involves the Sportspower BouncePro 14' Trampolines with brown mesh netting. UPC codes 68706404210, and 68706404244 are printed on the trampoline box. "Sportspower BouncePro 14" and "TR-14-63-A" are printed on a plate on the leg of the trampoline frame. The trampolines are surrounded by brown netting measuring about 6 feet high on the perimeter of the trampoline. The netting is designed to contain individuals bouncing on the trampoline.
Sold exclusively at: Walmart stores nationwide from February 2009 through February 2012 for about $275.
Manufactured in: China
Remedy: Consumers should stop using the trampolines immediately and contact Sportspower to receive replacement black netting for the trampoline.
Consumer Contact: For additional information, contact Sportspower's customer service hotline toll-free at (888) 965-0565 between 9 a.m. and 5 p.m. ET Monday through Friday, or visit the firm's website at http://www.sportspowerltd.net/recall-bouncepro-14ft.html, or send an e-mail to Sportspower at customerservice@sportspowerltd.net
If your child's product happened to be on the recall list, stop using the equipment immediately. Contact the manufacturer immediately to confirm about the recall and inquire about the next step and relevant information. Do not use the equipment until the repair kit or replacement has arrived or has been installed.
Keep your baby safe!
Complete list of up-to-date product recalls can be found at: