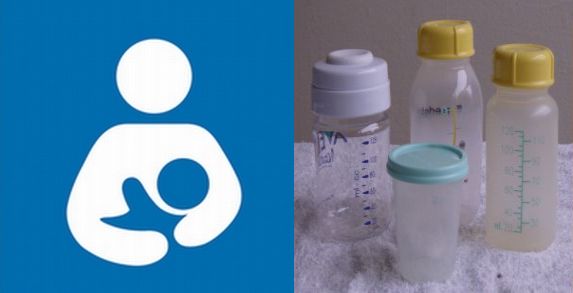 Moms, especially working moms may want to store breast milk for a later use due to schedule or convenience. It can be done, but there are basic things that you should know about storing breast milk for a later use.
Basic things about pumping and storing breast milk:
Practice pumping your breast milk with breast pump starting of 1-2 weeks before getting the feel of doing so and getting used to it. This can be done after each feeding or between feedings.

Make sure the containers or bottles that you will be using to store the breast milk is washed and cleaned properly. Best is to store breast milk in a hard-sided container with airtight seals. You can find certain type of plastic bags which are specifically manufactured to store breast milk at the store or online.

Initial pumping of breast milk may not give you much. After several times, breast milk flow usually improves. The more milk pumped, the more breast milk being produced.

Ensure that you drink adequate amount of liquid and eat adequate food intake. Nutritional content on breast milk is supplied by the food intake. If not enough supply obtained from food intake, then it will be taken from mom's body storage (e.g. iron). Enough fluid intakes will ensure keep mom hydrated and improve breast milk amount.

Breast milk may vary slightly in color.

Breast milk in general may be stored in the refrigerator for up to 48 hours or in the freezer for up to one month (Source: American Academy of Pediatrics).

Fatty part of breast milk may separate during refrigeration. It is normal. Shake the milk bottle or container to mix the fat back into the milk.

Refrigerate or freeze unused breast milk promptly. Thawed breast milk can be refrigerated for up to 24 hours, but never re-freeze thawed breast milk.

It is best to use breast milk as soon as possible, whether it is fresh or frozen.

Never thaw frozen breast milk using the microwave, since it can damage the protein in breast milk. Instead, thaw breast milk slowly by swirling the container or bottle in warm water or move it to the refrigerator a day before you want to use it.
How long can I store breast milk?
Place of storage

Temperature

Maximum storage time

At room temperature

< 25°C

< 77°F

Up to eight hours

Insulated

thermal bag

with ice packs

Up to 24 hours

In a

refrigerator

4°C

39°F

Up to five days

Freezer

compartment inside a

refrigerator

-15°C

5°F

Two weeks

A combined

refrigerator

and

freezer

with separate doors

-18°C

0°F

Up to three months