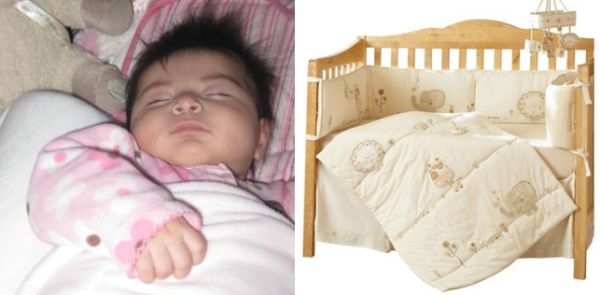 There are basic things that you need to know to put your baby to sleep. Baby has risk of having Sudden Infant Death Syndrome (SIDS). SIDS is an unexpected sudden death of infant under age 1 year old in which autopsy does not show and explain the cause of death. Exact cause of SIDS is unknown, and it is thought to be attributed by different factors. Ensuring that you baby is sleeping properly is very important to prevent SIDS.
There are basic things that you need to know when putting your baby to sleep, as listed below:
Healthy and normal baby should sleep on their back at all times, never put to sleep on their stomach.

Baby should be put to sleep in a crib. Babies who sleep in the same bed as their parents have been linked to an increased risk of SIDS.

Do not put your baby to sleep on any other places other than their crib, especially on pillows, sofa cushion, adult beds, waterbeds, airbeds, beanbags which are not designed for babies.

Get a crib which meet current safety standards. Make sure the crib you have is not on the recall list.

Get a firm mattress that fits snugly in the crib. Soft bedding in the crib has been linked to an increased risk of SIDS. Mattress that does not fit snugly in the crib can cause entrapment and strangulation of baby body part resulting in further injury which may lead to death.

Make sure that the fitted sheet for the crib fits the mattress tightly and wraps securely around the mattress corners.

Nothing else except fitted crib sheet, mattress pad and or waterproof pad is allowed to be between your baby and the mattress. It means that no quilts, comforters and blankets are allowed to be under your baby.

Avoid using pillow-like bumper pads. If you are using bumper pads, it should be tied securely on the crib sides and fit properly. Tied bumper ties should not be dangling, which can cause strangulation or become a choking hazard.

Bumper pads should be removed when you baby can pull herself or himself to a standing position since they can be used to climb out of the crib.

Never overdress your baby. Newborn will be more comfortable swaddled up to three months of age. Afterwards baby can wear a sleeper, wearable blanket or other sleeping clothes to sleep.

Check periodically for any loose ends, threads or stitching which can be a choking hazard to your baby.
Click on item below to see more information, provided by www.amazon.com