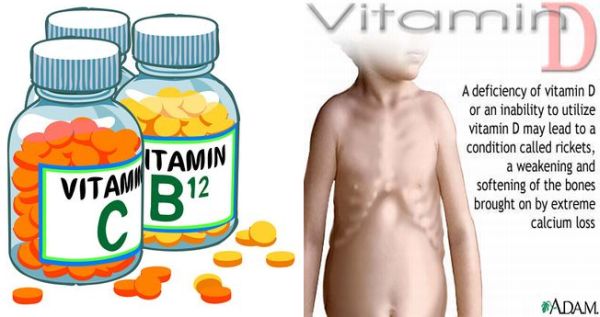 Does my baby need any vitamin and supplements aside from milk? Yes, they do!
Vitamin and minerals required by the body come from foods, which is either consumed by the nursing mom or fortified on the formula milk. Breast milk or formula milk in general provides adequate vitamin and minerals needed by baby, except vitamin D which is produced from sunlight exposure. Adequateness of vitamin and mineral source inside the breast milk will depends on the quality of food consumed by the nursing mom. Therefore it is very important that the nursing mom take multivitamin or prenatal vitamin to supply the baby's need. Aside from the nursing mom taking vitamin supplementation, it is also very important that the baby also take vitamin D supplementation.
Vitamin D promotes calcium and phosphorus absorption for healthy bones. It is very crucial that baby obtain enough amounts for vitamin D in order to promote good bone growth. Lacking of vitamin D may cause rickets which is a bone-softening disease. Rickets is continuously reported in the United Stated on infants and adolescents. Those with high risk of getting rickets are breastfed baby who are not supplemented with 400 IU daily vitamin D, especially in the northern hemisphere such as United States and Canada.
The American Academy of Pediatrics (AAP) recommends that baby and children need to receive vitamin D supplementation aside from breast milk or formula milk. The new recommendation issued in 2008 recommends that all children receive 400 IU daily dose of vitamin D, beginning in the first few days of life. This newer recommendation doubles the previous recommended dose issued in 2003.
The change on the recommendation is based on the review of multiple clinical trials of administration of vitamin D to the pediatrics population. It has been shown that 400 IU vitamin D daily prevents rickets and also can treat rickets. Adequate supply of vitamin D throughout childhood can reduce the risk of osteoporosis. Study also suggests that vitamin D play a role in the immune system, and can help to prevent infections, autoimmune diseases, cancer and diabetes.
These are recommendations from AAP regarding vitamin D for infants and children:
Breastfed and partially breastfed infants should be supplemented with 400 IU daily vitamin D beginning in the first few days of life.
All non-breastfed infants, as well as older children, who are consuming less than one quart per day of vitamin D fortified formula or milk should receive a vitamin D supplement of 400 IU daily.
Adolescents who do not obtain 400 IU of vitamin D daily through foods should receive 400 IU of daily vitamin D supplementation.
Children with increased risk of vitamin D deficiency, especially due to certain medications may need higher dose of vitamin D supplementation.