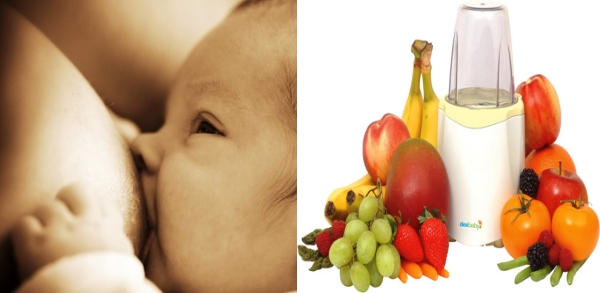 Newborn is best feed with breast milk exclusively for the first 6 months, as recommended by World Health Organization (WHO) and American Academy of Pediatrics (AAP). Some babies due to certain reason cannot get breastfeeding; instead they are getting formula milk. Either breastfeeding or formula milk would not be continued for prolonged period of time because the nutrition contained by solely giving those would not be adequate for the baby after certain age, especially for their growth and digestive tracts.
When is the right time to start introducing solid food?
After period of exclusive breastfeeding for six months ended, usually it is time to start introducing solid food gradually as tolerated. Your baby is the best indicator whether he or she is ready to eat solid food.
Commonly when baby reached their growth spurt (around 3-4 months), they will be requesting more frequent feeding or wake up more frequent at night to feed which are signs of increased hunger. This is not a sign that it is time to start introducing solid food. Instead, offer your baby more frequent nursing time, preferably breastfeeding unless not possible.
Baby has good head control, where he or she can sit up and hold the head up without assistance.

Baby no longer has tounge-thrust reflex. This reflex is a self prevention against choking. If this reflex no longer present, it means that baby is usually able to drink and swallow liquids with ease and safely. This reflex usually started to disappear between four to six months.

Baby already double his or her birth weight.

Baby may have started to develop more interest with adult's food.

Baby is able to give sign that he or she is full after a meal by turning his or her head after bottle feeding or breastfeeding. This is a sign of self regulation to over-eating.
Remember, your baby is always the best indicator of when to start introducing solid food. There are no strict guidelines of when to do, but as recommended by WHO and AAP it is best to follow exclusive breastfeeding for the first six months. Some babies may be ready for introduction to solid food by six months, and some may be later. As baby transition to solid food, some may experience constipation. Read more at: Baby having constipation, why and what should i do?
Consult your pediatrician prior to feeding anything other than milk or if you have any health-related issues!